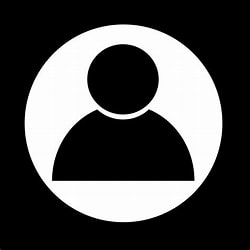 "I was very excited to take the "Ride Like A Pro" class. I have taken other classes in the past, but this class actually made me feel comfortable. Jeff is very knowledgeable and an extremely skilled rider. Jeff explains each course and gives a demonstration on how to do each maneuver and watches you and advises you on where your deficiencies are. If you apply his advice you will successfully complete each step in the course. The course is very well prepared, and each step builds on the previous. This is by far the best course I have taken this far, and I plan on attending again next spring." - Frank U. (2023)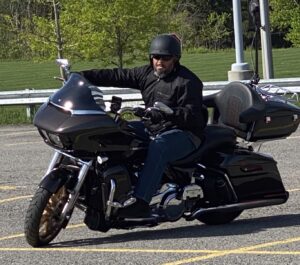 "Another great class! This was my second year. The instructor is extremely knowledgeable and knows how to help you relax and have fun learning. I plan on coming back next year." - Jesse W. (2023)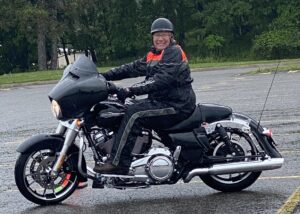 "I took Jeff's course on May 20, 202. I give Jeff Roehrig of Ride Like a Pro a five-star rating for his class. He was very patient with me, and it was obvious that he is passionate about teaching his students to be better and safer riders. I learned a few key techniques that will help me in real life riding. I highly recommend taking his course!" - Gary W. (2023)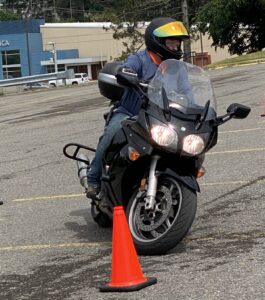 "Took this class this weekend and it was an awesome experience. I've been a confidant street rider for 40 years, but this class gave me knowledge and skills I never had previously. It's applicable for any rider/bike with any level of experience. Jeff and Tina ran a very well organized class that is limited in size to be able to give a lot of 1 on 1 time. Our class was fortunate that only 4/7 riders showed on what started out as a dreary day. Each exercise we would get a brief description of what we were going to do then Jeff would demonstrate. Each exercise built off the last to continually build your skill set. You get a lot of seat time and Jeff is there at the end of each exercise to get your thoughts and give you instruction as to what you didn't do in a very calm and easy to apply manner then you go back around and do it again. We were encouraged to make this fun and I will say I saw a huge jump in everyone's slow speed skills and confidence throughout the class. If you're looking to improve your slow speed skills and gain confidence in what you and your bike are capable of in confined spaces this class is priceless." - Mark R. (2022)
"The class was conducted in a parking lot at the Bethel Park High School. The lot was is serviceable condition. It hadn't been sealed in quite a few years and as such there was some minor grit due to asphalt degradation, but the surface was perfectly safe to conduct the class, if not ideal. Water and snacks were provided and facilities were very well maintained porta-John's. The class is limited to seven participants, and we lucked out because three of the seven flaked and were no-shows. More time and attention for the four of us that showed up! I took the class on my 2019 BMW K1600 Bagger. The other bikes were a Yamaha FJR 1300, a 2002 Harley Davidson Street Glide (or similar Bagger) and a 2019-20 Harley Davidson Electra (or similar land barge). Rider skill varied, but there were no riders with less than 10 years experience in the class. The class is advertised as being "focused on teaching the average rider the three Motor Officer techniques the cops have been trained in for more than 60 years" at an average speed of 10-12 mph. It definitely does this. Instruction was conducted completely in the field with no classroom. The curriculum started at a basic baseline and built one block on the next. The instructor and asst. were professional, courteous and very engaged throughout the class. If you know me, you know how important individualized coaching is to me. This class delivers. Coaching was pertinent, individual and generally done away from other participants. I learned to better control my bike in low speed conditions and gained significant confidence throughout the class. Each rider showed obvious improvement throughout the event. If you don't have "crash bars" on your bike, you probably want to get them before taking a class like this, it's not uncommon or even unexpected for someone to lay a bike down at less than 5mph. 2 of 4 riders did just that. I was fortunate to not be one of them. In all, I highly recommend this class and company. They do exactly what they say they do professionally and effectively." - Ashton R. (2022)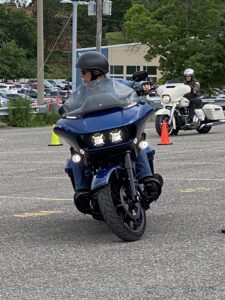 "Overall an excellent class. We were instructed in a clear concise manner on the fundamentals needed to complete the training courses in a professional fun manner. Instruction, demonstration, questions, and then we got to try all the skill courses and receive personalized instruction on how to improve.  Each skills course built on the foundation taught in skill course 1. Excellent overall, practice is now needed, as in any newly learned skill, practice or it goes away. I am a more confident and skilled rider after this course, after a few weeks of practice I hope to integrate these skills into my daily riding so they just become "how I ride", and do not have to think, "stay in friction zone, back break, turn the bars" over and over in my head…Highly recommended. I plan to retake the course when I have these skills down to be able to further improve, great class for any skill level." - Tom D. (2022)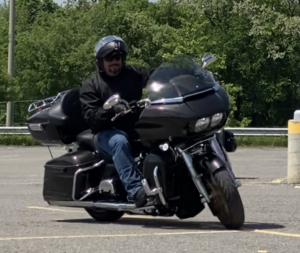 "I had an amazing class with Jeff today. The pace was great, and the instruction was top notch. Jeff made sure we learned a lot and had fun doing it. I'm looking forward to taking another class!!!!" - Jessie W (2022)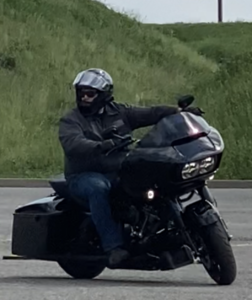 "After attending @Ride Like A Pro Pittsburgh's class I came away with a better understanding of low speed riding. I thought that the class was going to be relatively easy but after discovering that I have a great deal to learn, Jeff explained the fundamentals and common problems and solutions we motorcycle riders encounter while low speed maneuvering in more confined areas. I took away a great deal and look forward to attending additional classes and growing in skill. After today's class I can honestly say that I grew as a rider and have the base to continuously practice my new skill set." - (Matt C. 2022)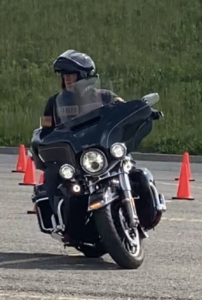 Just wanted you to know that I took Ride like a Pro Pittsburgh with Jeff Roehrig on May 21 and absolutely loved it. He is amazing. Rode down from Toronto, Canada which only took 5.5 hours. Well worth it. Had signed up in May 2020 and then well you know- had to cancel it. Darn Covid. Such a great thing that you are doing with your company. Well done. You are the most accomplished rider I have ever seen- the real deal. I hope to one day being very proficient at those three simple techniques that are so incredibly hard to do at the same time. Back to the parking lot 🙂 Thank you from Canada." - Paul S. (2022)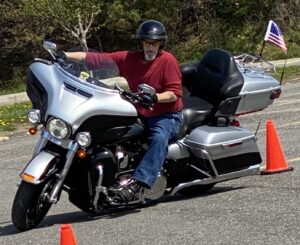 "Jeff and Tina are so good at what they do. Jeff explains everything clearly and in a way that is easy to understand. I've been riding for a long time the wrong way, thanks to Jeff I now have the techniques to keep me and my wife safe. Thanks Jeff." - Greg A. (2022)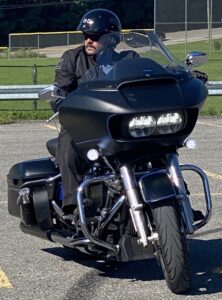 "The training I received from this instruction was phenomenal. Jeffery Roehrig, the instructor was knowledgeable, engaging, and was able to present the instruction in a clear concise manner. I have been riding for over forty years and received more techniques that were new to me in four and a half hours than ever in my forty years of riding. I would highly recommend this training to anyone wanting to advance their slow speed riding experience." - Scott P. (2021)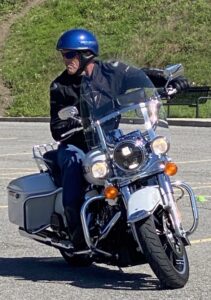 "Recently took the "Ride like a pro, Pittsburgh, Level I" class on 9/4/21!  Whether your new to riding or  have been riding for years, this is great class! Jeff's instruction starts with the basic techniques and exercises, building on them as the class progresses, In addiction, Jeff and Tina offer individualized positive coaching throughout each exercise. I gained a great deal of knowledge, which I plan to put into practice and come back to take higher level courses. Do not be intimidated about taking the class, Jeff and Tina are sure to make it a friendly experience." - Chad M. (2021)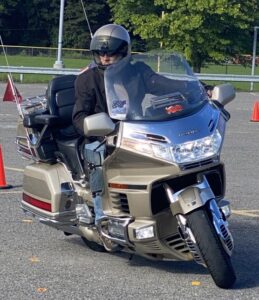 "My wife signed me up for the class as a birthday present. The class was a great learning experience. Even after 40 years of riding street bikes, there is always something to get better at. I highly recommend the class for riders of all skill levels. Jeff is a great instructor and makes the class informative and fun. We had a great group of guys in the class that also added to the fun." - John L. (2021)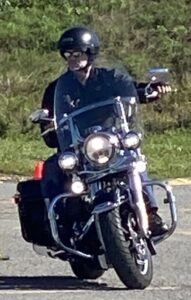 "Thanks again for the great class yesterday.  I've ridden for years but have never taken a formal riding class.  I'm sure the techniques I learned will definitely make be better rider.  Your instruction was clear, concise, and right on point. I look forward to taking another refresher course after more practice!" - Brian H. (2021)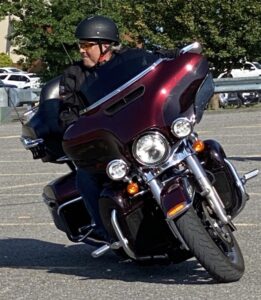 "I needed help making u turns and to feel more confident with slow speed maneuvering. Especially with parking the bike on runs and at rallies . It was embarrassing to ask my passenger to get off of the bike so I could go park the bike. The ride like a pro class in Pittsburgh changed my life . The instructor, Jeff, was very informative and patient. I rode away feeling more confident. I learned a lot. This is a great place to learn. No one there was judging … a lot of support from fellow riders -classmates." - S. Greg A. (2021)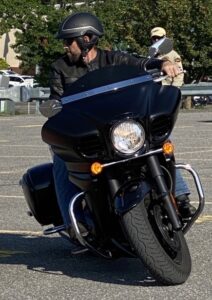 "The course is excellent. Jeff and Tina are wonderful instructors. They give you the tools you need to succeed and the patience and understanding for you to learn how to use those tools. My first time through, I failed at completing some exercises. I wasn't willing to commit myself and trust Jeff's direction. After some practice at home (and a dropped bike), I was able to complete the U-turn. One those helpful tools is learning how to pick up your 900lb motorcycle. I will be heading back to take this course again. This course is a must for someone who doesn't just want to ride, but wants to ride like a pro!" - James B. (2021)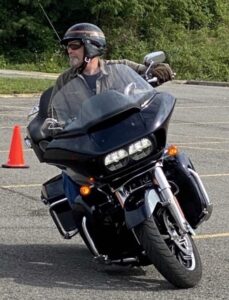 "The level 2 class really increased and refined my skills. Jeff helped me with something I couldn't do consistently. Not intimidated by tight situations out on the streets which is a real blessing. Recently entered a motorcycle skills competition and placed 3rd in the novice class. Hats off to Tina and Jeff ." - Ken H. (2021)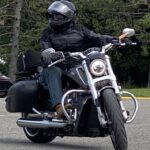 "If you consider yourself a serious rider, this is a course you must take. It was humbling, but it also taught me so much. Learning to moderate the clutch and rear brake can take your skills to the next level." Read more... - Eric J. (2021)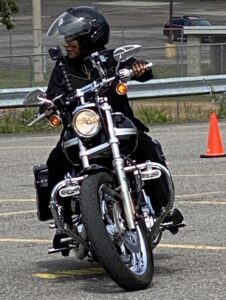 "This course is very challenging and not for the faint of heart. I found it even more daunting being the only woman in the class. Tina's consistent encouragement helped me keep both wheels on the ground." Read more... - Kimberly J. (2021)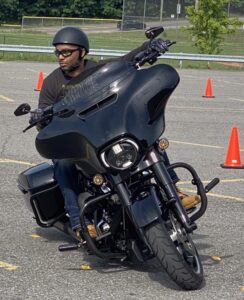 "I just wanted to thank you for all your help. The class was excellent and I'll be back for the challenge." - Earl T. (2021)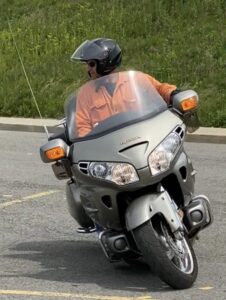 "As this was my first formal training in motorcycle riding after riding over 25 years, Jeff showed me the techniques needed to keep my big Goldwing behaving how I want it to at slower speeds. Now it's up to me to keep practicing and make it all muscle memory for those situations that are more than just hitting an orange cone. Thanks Jeff!" - Jay J. (2021)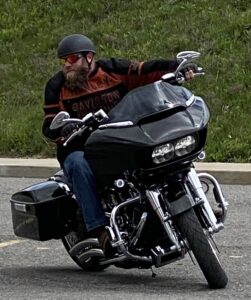 "I went to the Ride like a Pro class this past Saturday.  I just wanted to say that my instructor Jeff did a fantastic job.  I would highly recommend taking this class, I've been riding for 30 years and I still learned a lot from him. It is well worth the money."  - Nate A. (2021)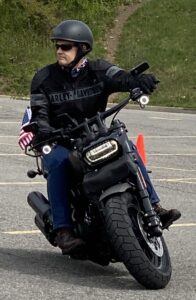 "The Ride Like a Pro Advanced Motorcycle Skills Training Class helped give me the confidence and greater competence in handling slow and moderate speed maneuverability, making riding much more enjoyable, but also feeling much safer with the skills necessary to avoid or get out of dangerous situations in a more controlled manner." Read more...   - Tim S. (2021)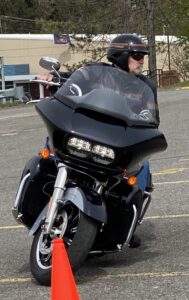 "I have been riding for 41years.  I thought I was a good rider until  Ride Like a Pro brought my riding skill to whole new level.  I have more confidence riding and maneuvering my bike at low speeds now, which is very helpful on the streets. Looking forward to the level 2 class. Thankful for Jeff and Tina for making the commitment and making this class available. They do an excellent job.  I would highly recommend this class for any rider."  - Ken H. (2020)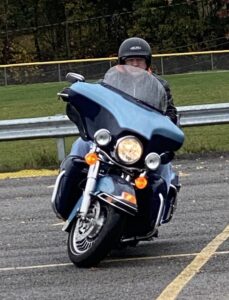 "I highly recommend this course. Jeff was an excellent and patient instructor who made sure we were comfortable with what we were learning. Although I didn't do as well as I had hoped... by my own fault... Jeff gave me the tools and knowledge to practice. Fantastic job, Jeff." - Chris A. (2020)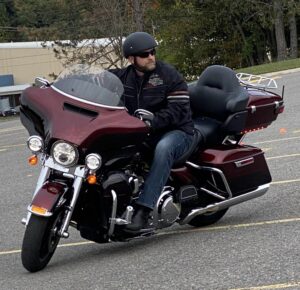 "I just took a refresher class today and left a more confident rider. Can't say enough about the great job Jeff and Tina are doing. See you again in the spring!" - John H. (2020)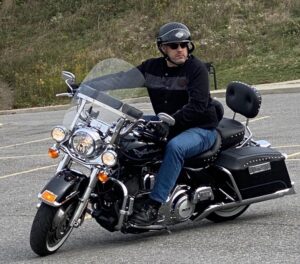 "This course will improve skills no matter what level you're at. Jeff and Tina were great. Thank you so much." Scott Q. (2020)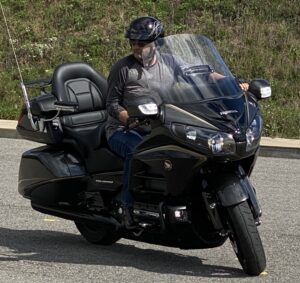 "Thank you Jeff for the great class last Saturday. Very informative and useful, I learned a lot and I recommend this advance training for all Riders. During your class you showed us the right techniques and now I can keep practicing  my slow speed skills the right way. Thank you again for the good time." - Martin S.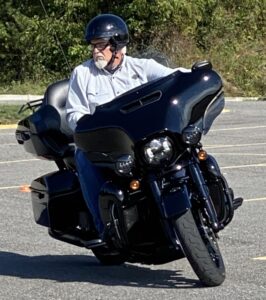 "Fantastic experience, thank you so much. I'll be taking your refresher course and telling all my friends about the class and they need to take it. Thank you Jeff and Tina." - Randy H.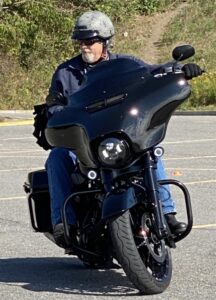 "I was very impressed with the class, Jeff and his wife were impressive in there teaching skills. I only wish they had a class like this 50 years ago. Well worth the money. I will be telling all my friends that they need to take this class. I want to thank Jeff and Tina for their instruction and Ride Like A Pro." - Mike P.
"I took the class today, and learned a lot! Jeff was a great teacher and the progressive exercises helped everything make sense. I now have an understanding of the proper technic for slow maneuver riding. That being said, I have a lot of practicing to do! I recommend that every rider takes this course." - John H.
"I drove 3 hours to take this course and it was worth it.  I think that everyone should take this course.  The skills learned are life saving. Don't you think that your life is worth it?  I learned new skills and I learned that I need to practice more.  Jeff is an excellent teacher/coach and he is very patient." - Vernon H.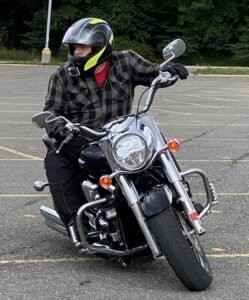 "I really enjoyed today's class. I have my work cut out for me practicing what I learned today. Jeff did a great job helping me see both big and small things I can incorporate into what I've already been doing to make huge improvements. He was very patient and approached everyone where they found themselves skill wise. Everybody really seemed to have fun and come away with improved skills and confidence... I know I did!" - Craig G.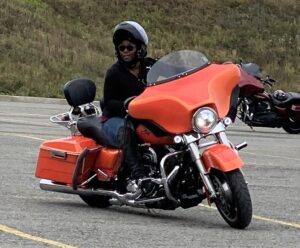 "I enjoyed the class size and all the other people I met. Jeff was totally patient and understanding and gave good words of encouragement in what to do and what not to do. Being the only female in this particular class, I truly appreciated Tina's attention and support in helping me to find my inner strength. I have learned a lot about managing the bike in low speeds. This class really teaches skills that are necessary while out on the street. It also helped me to build my confidence! I plan on taking these 3 skills and practicing them and applying them. Thank you Tina for listening to your spirit and being obedient to pray for me for peace and courage, I will never forget that! I'm glad Jeff was my instructor and it is totally worth the investment "in yourself"! - Darlene M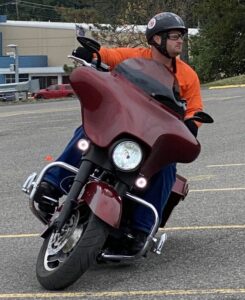 "Jeff and Tina run a very good and friendly class. Jeff is a good instructor and provides good feed back whether you are doing well or in need of lots of correction. I would recommend this class to anyone wishing to improve their riding skills." - Don O.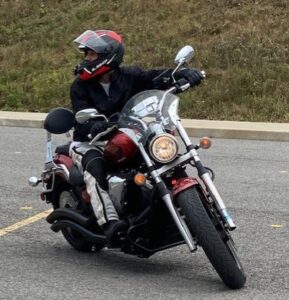 "This course was really fun. Jeff and Tina were great. You will have the opportunity to run through a bunch of drills a few times. The drills are tough and really force you to improve skills like throttle and clutch control, rear brake and turning your head to look where you want to go. You will absolutely leave a better rider than when you showed up. Highly recommend to all riders no matter how long you've been riding." - Brian A.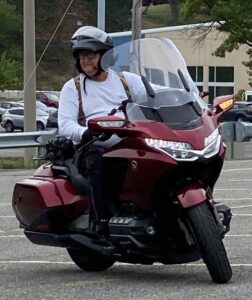 "I learned a lot of safety measures that is normally not used in a lot of daily riding. What I learned and can practice on is the what if situations that you get yourself into and the proper way to get out of! Practice Practice Practice!" - Marshall E.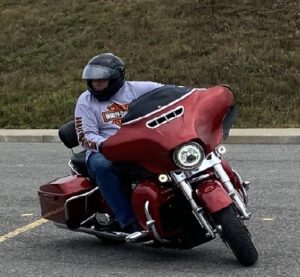 "What a great training course. This course is a must for anyone wanting to enhance your motorcycle skills. Jeff is a top shelf instructor, very patient." - Dan S.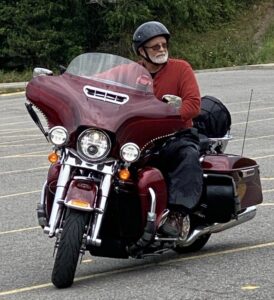 "Jeff, I really enjoyed the class, very informative and it gives us a lot to think about and practice. Your instructions and techniques really helped. Thanks again and I hope you and your wife have an enjoyable summer and stay safe." - Gary M.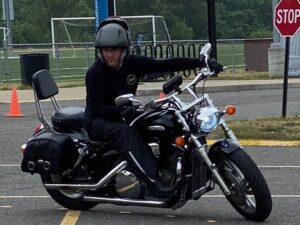 "The course was outstanding and I learned a ton of new skills, tips and tricks to help settle my nerves when making tight maneuvers with a ~650lb bike at slow speeds that I plan on continuing to sharpen. I learned how to properly use the the friction zone, head and eyes all while utilizing the rear brake to maintain my speed and stability. You will not regret taking this class. It is worth the time and money. You will immediately put what you learned to use and you will be amazed at how easy it really is. I still have a lot to learn, but now I know what to work on to make myself a better and more successful/cautious rider." - Ken J.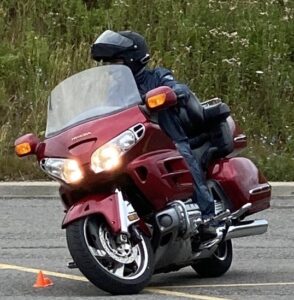 "I just took the course with Jeff this weekend. The exercises weren't easy, and I certainly have a lot more practice to go before I'm a pro, but the class was great. Tina keeps all of the logistics flowing smoothly and Jeff is a very dedicated instructor. I felt like I learned new skills and came out as a better rider." - Jason B.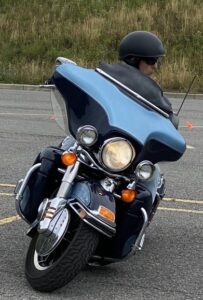 "Wow! this was a great class! Jeff and his wife Tina were awesome. Jeff is laid back and is phenomenal Ride like a Pro instructor. He gets his message across in a positive and reassuring way. I learned a lot of new techniques to take back and practice to make me a safer "Ride like pro student". This may be a bad thing to say, but I'm looking forward to upcoming class cancellations so that I can take it again as a refresher. I feel that this course has a lot to offer should be mandatory for all motorcycle riders. I'm recommending this course to all of my friends and family that ride as well. If you have any desire to improve your riding skills then this is the class that you want to take in person. I did purchased the ride like a pro DVD's prior and practiced on my own and it paid off. Thanks again Jeff and Tina for the wonderful and positive experience!!" - Gary T.
"Think you're good enough? Think again. I've been riding for 37 years, and always thought of myself as an expert rider. Wow, was I wrong! Now that I've taken Jeff's class, I realize just how much I had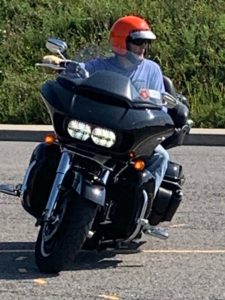 to learn. Jeff is an elite rider, but an even better teacher. He taught me skills that I NEVER could've learned on my own- skills that someday could save my life. I left his class a far better rider than when I arrived, and now that I have the tools he has provided, I plan to take my abilities to a whole new level. I'm going to take the course again next summer, and I'm bringing my son and son in law. Thanks again, Jeff and Tina!" - Matt S.
"I took this Ride Like a Pro course after riding for 41 years (started riding at age 14). My main goal was to learn how to make a quick and safe U-turn on the motorcycle. In order to do this correctly, we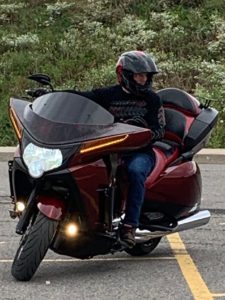 first had to learn how to control the bike using the "friction zone" in combination with the rear brake, head and eyes. The instructor and owner of Ride Like a Pro Pittsburgh is Jeff Roehrig. Jeff has an excellent method for teaching how to get into the friction zone and use it to complete the course. He was patient and explained every step of the course along the way. I now have the skills and knowledge to take home with me and practice on a regular basis in order to fine tune these skills. I HIGHLY recommend this course and in particular our instructor, Jeff." - Bill K.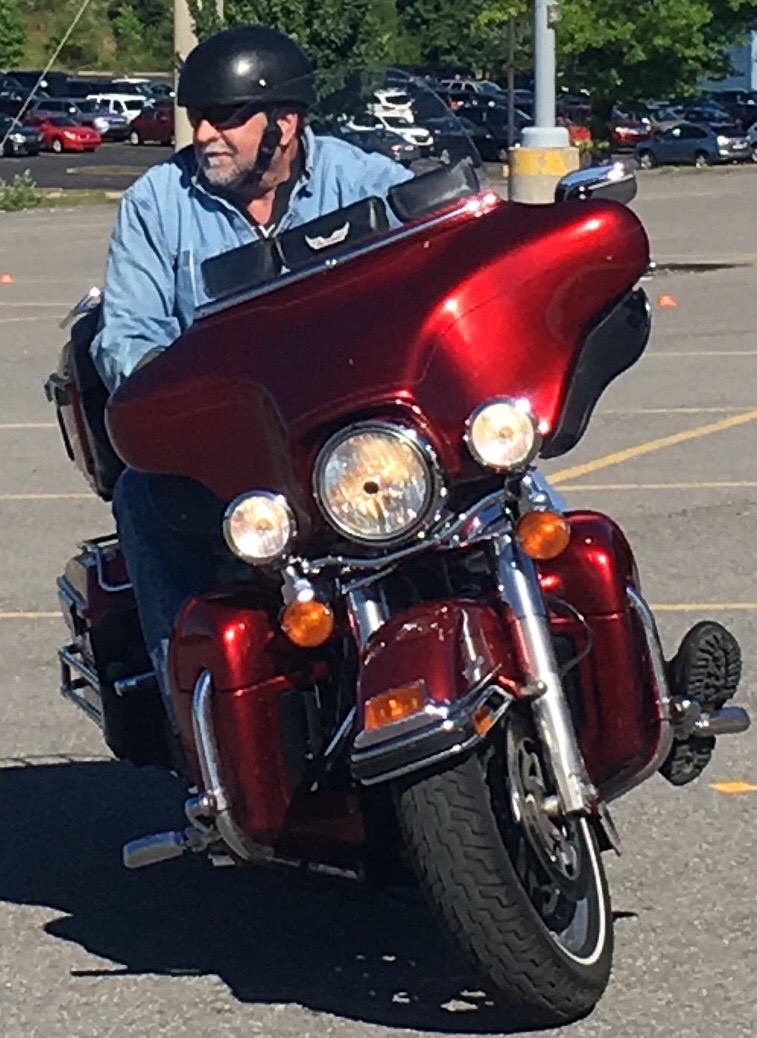 "I really enjoyed the class and was practicing the techniques on the way home. I am planning on re-attending in the near future and I am trying to encourage some friends to come with me. Thank you very much for a morning well spent." – Ken B.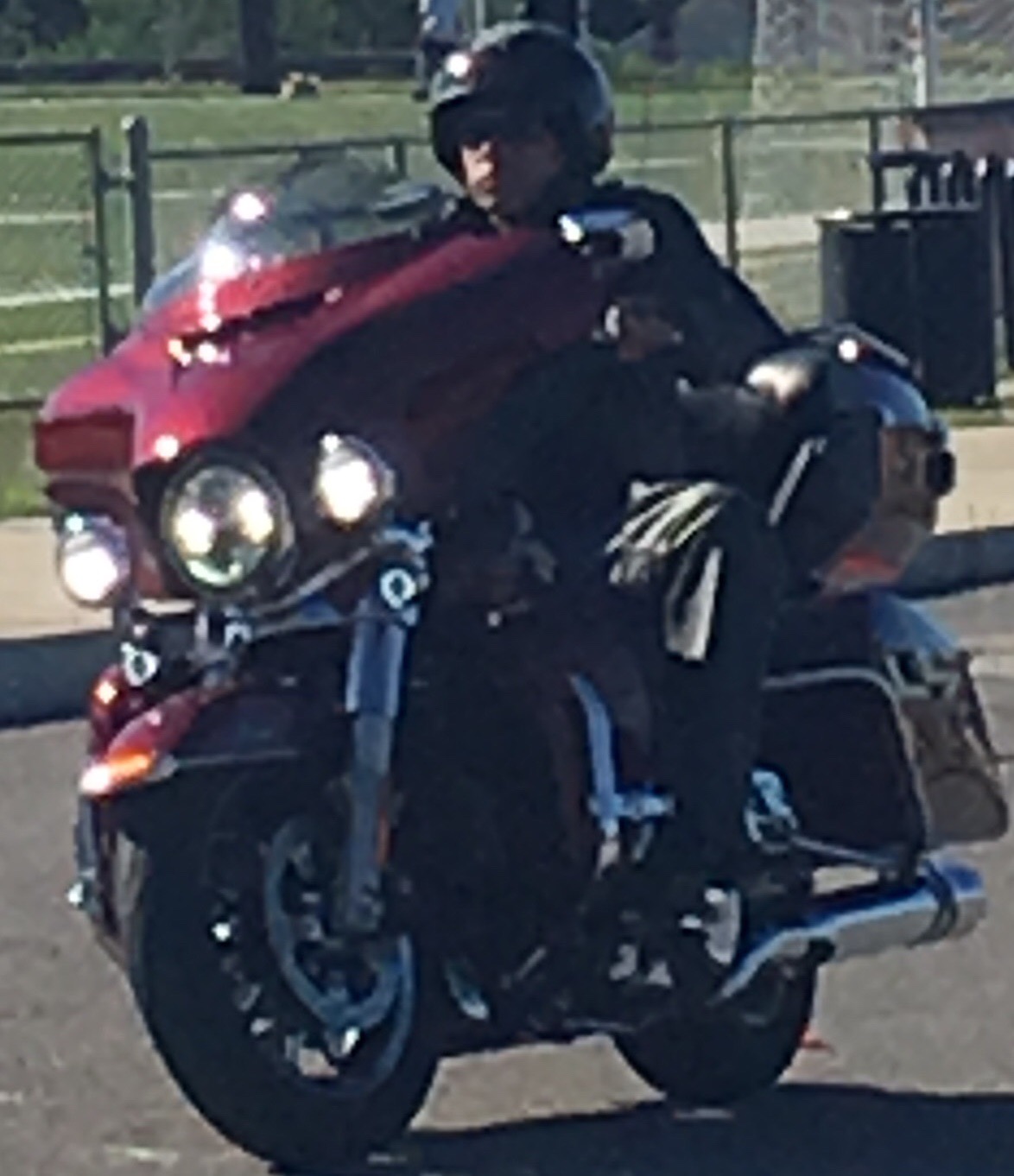 "Excellent interpersonal skills spot on analysis as well as a sound coach" – David C.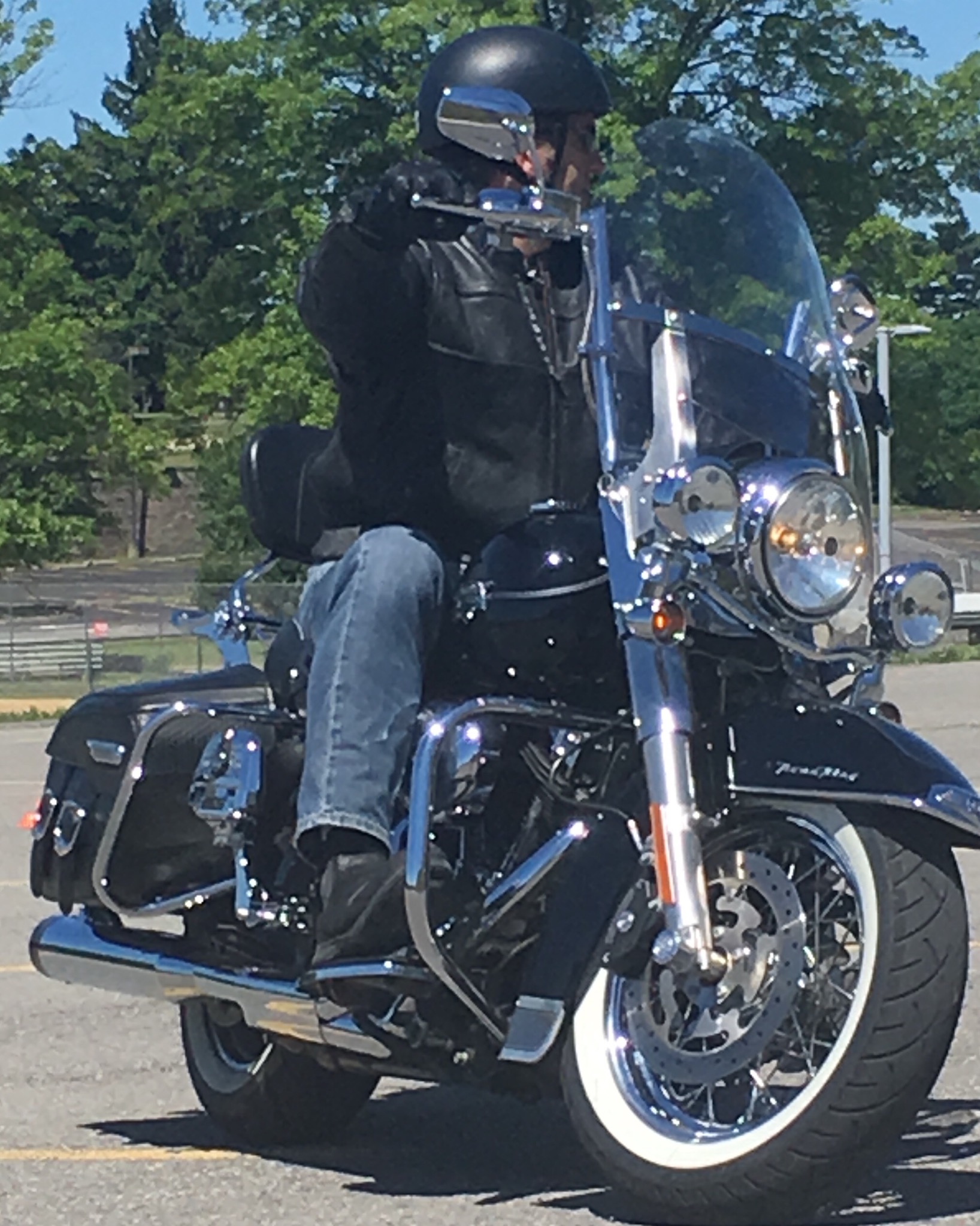 "It was a great class and Jeff was a great teacher. 
Very patient and loves what he does. 
My riding improved more than I ever thought it would. 
Thank you"  - Frank M.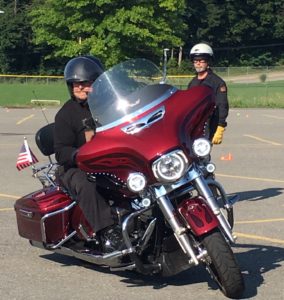 "Once again, Jeff has taken the time to do a thorough job of teaching us the techniques." - Tom A.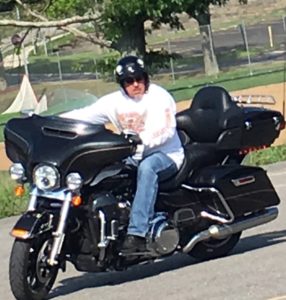 "Jeff is very knowledgeable and patient. I've been riding (off & on) for 43 years. No one ever taught me some of the skills I learned through Ride Like a Pro." - Rick B.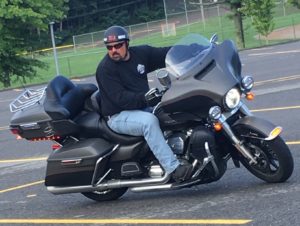 "Excellent class and well worth the fee. Got my monies worth in the first 2 hours and will be going through again to continue to improve my skills." - Scott D.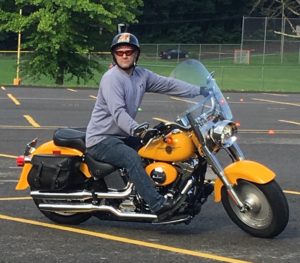 "Jeff and Tina put on a great class! The instruction was outstanding and Jeff provided on-the-spot corrections. After 4 hours of class, I felt like a 100% better rider. I am much more confident on my bike and would highly recommend this class to everyone." - Jason E.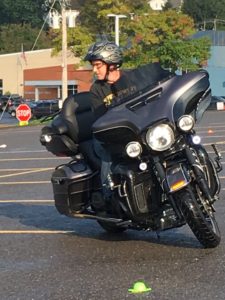 "Excellent motorcycle instruction with valuable, practical techniques for improved maneuverability! Jeff was informative, patient and professional. An excellent experience!" - Eric H.
"I completed the class on April 27th. I learned things I never even thought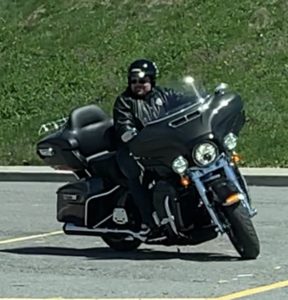 about in my 10 plus years of riding, Jeff was very patient and allowed me to learn at my own pace. He encouraged us the whole time. I left the class with so much more confidence. I have been thinking about taking this class since last spring but  never committed to it.  I am very happy I finally did!  I realized it was worth the investment as soon as I started on my trip back home.   Thank You Jeff and Tina!"  - Dennis K.